Ogmius: L'Oiseau-Mouche hosted supporting staff shadowing
In February 25 – March 1 2019 staff members from Mind the Gap and Moomsteatern visited L'Oiseau Mouche in Roubaix France for the first of three job shadowing visits. Charli Ward, director of Mind the Gap Academy, as reflected on the experience.
This succeeded the first artists' vocational training residency in December 2018. During the course of the OGMIUS project all partners will get a chance to host a job shadowing visit enabling other staff to observe their work and practice, in order to share and learn from each other's rich and high-quality training and methods. The shadowing is meant exclusively for staff who support artists with learning-disabilities.
The objective during the first shadowing at L'Oiseau Mouche was to immerse the attendees in l'Oiseau-Mouche daily life, from the "éducateur" point of view. The panorama included:
actors' training sessions
rehearsals
discussion with the ensemble
presentation of the social sector in France and where does the "éducateur" comes from, from a cultural perspective
> Click here to watch a film about the support work at Compagnie de l'Oiseau-Mouche (in French!)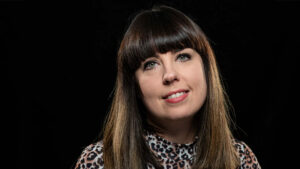 Charli Ward, Mind the Gap's Academy Director, reflects on the experience:
This job shadowing opportunity focused on the role of the Educateurs within L'Oiseau Mouche. This is the staff role that the company has in place to support artists with a learning disability in their work.
At Mind the Gap we have observed throughout our partnership that the support structure in place for LD performers vary amongst the European partners, So, myself and Melissa Conyers (Learning & Participation Coordinator) were really excited to get to see how the Educateur staff work and spend some time with them in their environment.
We are always welcomed so nicely by L'Oiseau Mouche, and again they did not disappoint. On our first morning we were greeted with real coffee and biscuits and everyone introduced and shared a little bit of information about themselves.
After a warm up with the Actors, the rest of day was spent observing the Actors and Educateurs plan their week. As Academy Director it's always great to observe how others work and what structures they have in place. I also love to steal a game or two and L'OM definitely taught us a few to take back to MTG!
It was great to just absorb what they do and by the end of day one both Melissa and I were buzzing with knowledge and inspiration.
Day 2 gave us the opportunity to watch some rehearsals of L'Oiseau-Mouche upcoming touring production. With only a week left of rehearsals we were privileged to be invited to watch and understand more about their work, as well as find out a bit more about the guest directors that they work with.
This was another opportunity to see how the Educateurs work with the Actors and how they support performers in a rehearsal environment. All partners are really keen to learn from each other and ensure that the actors we work with have the best support and training to deliver high quality theatre experiences.
During the afternoon L'Oiseau-Mouche gave us a really thorough history of disability in France, followed by explaining how the Educateur system works. This was an invaluable experience and enabled all the companies to really share knowledge and talk openly about what works and what doesn't. It was reassuring to hear we have the same principles when working with Learning Disabled performers. As similar as we are though, there are so many differences between the partners and my eyes have been opened to just how these small differences have a huge impact on the way we work.
Day 3 was very practical! We spent the morning watching rehearsals for a show L'Oiseau-Mouche are making for babies. We then participated in the development work the Actors are working on to welcome visitors come to the building. We got the chance to see how the tours work, learn more about the Actor's role within the company and take part in a workshop the actors have designed themselves.
In preparation for the residency we all shared some thoughts about what we would like to do better within our job roles and as a company. I felt this experience answered a lot of questions for us.
By our final shadowing day we were definitely feeling sad to leave. The Actors were working on improvisation skills as part of their Continuous Professional Development (CPD), so we got to see them in action! The afternoon session was our final chance to ask any questions and evaluate what we had learnt during the week.
As part of the Erasmus+ project, one of the objectives is to identify methods we already use that are robust and effective and find a way to transfer this into a tool that can be shared. This time gave the partners to discuss more closely our monitoring and evaluation methods and establish key assets we want to solidify.
Reflecting on the residency, myself and Melissa have learnt so much about how different theatre companies work. L'Oiseau Mouche demonstrate real strengths in their practice that Mind the Gap would like to adopt. Support is such a huge part to how we work and essential in the running of our Academy courses, which in turn extends to the professional work we make. The opportunity to learn from others and to reflect more deeply on how we work, so we can share this expertise, has been instrumental to my personal learning and the wider company.